LDS tells its story during the partnering day organised by Toscana Life Sciences
On 11 April 2019, TLS organised a day to support partnering and networking opportunities among the companies and research centers currently hosted by the bioincubator and working in the field of Life Sciences.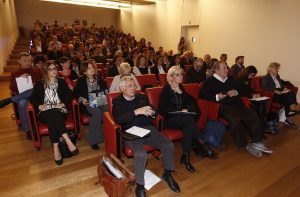 The Tuscany Region Vicepresident and Assessor for Culture, University and Research, Monica Barni, opened the working session, together with Andrea Paolini, TLS General Director, and Fabrizio Landi, TLS President.
Among the 25 speakers, Laura Maccari, LDS Project Manager, gave an update for LDS research activities and projects. Over than 120 participants were present, among which representatives and delegates from several pharma companies, scientific parks, investors and institutions.
It was an important opportunity to meet and share the current state of art and future perspectives for LDS as well as the other companies and research centres, which could pave the way towards new collaborations and synergies.